Jamaat Management software
---
Jamaat Management software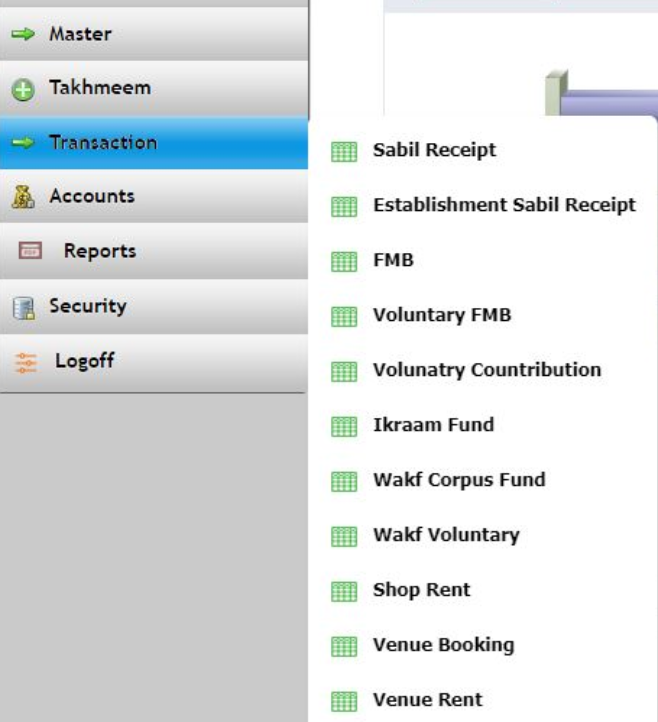 Product Details
Jamaat Management software

•All the Screen in the application, is based on the role assign to the user.
•User will have access to his/hers screen only.
•All the screen in Transaction has 3 phase i.e. Pending, Approved & Reverse
•All the above mentioned phase will have access as per user's role.
•Once the screen is Approved it cannot be modified, excepts user having Administration rights.
•This application is User friendly.
MASTER
· Jamaat Details
· ITS HOF Details
· ITS Member Details
· Moallim/Committee
· Grade Details
· Takhmeem Master
· Venue Master
· Receipt Types
· Payments Types
· ITS Change HOF
TAKHMEEM
· Sabil Takhmeem
· Establishment Sabil Takhmeem
· FMB Takhmeem
· Wajebaat Takhmeem
· Ramzan Takhmeem
· Ashara Takhmeem
· Shop Establishment Takhmeem
TRANSACTIONS
Sabil Receipts
· Establishment Sabil Receipt
· FMB
· Voluntary FMB
· Voluntary Contribution
· Ikraam Funds
· Waqf Corpus Fund
· Waqf Voluntary
· Shop Rent
· Venue Booking & Rent
· Muwasaat & Other Muwasaat
· Wajebaat Receipts
· Payments Receipts
· Mazaar E Muqaddasa
ACCOUNTS
· Financial Year
· Bank Master
· Account Groups
· Main Account
· SMS & Email Integration
· Reminders & Alerts
REPORTS
Takhmeem Reports
Sabil & Clearance Slip
HOF Details
Muwasaat Reports(Others)
Date wise Collection
SECURITY
Users

Applications
Groups
Groups/Users
Groups/Application
Sync Application
System logs
Change Password
---